About Kenya
Kenya is a country rich in wildlife, culture, history, beauty and friendly, welcoming people. Kenya is geographically diverse, from snow-capped mountain peaks to extensive forests to wide-open plains.
Key geographical attractions include the Great Rift Valley, which features extinct volcanoes and hot springs, and Kenya's coastline, complete with reefs and magnificent beaches. Combine all this with a well-developed tourist infrastructure of hotels, lodges, campsites and a variety of activities, and its no wonder Kenya is a popular tourist destination attracting millions of visitors each year.
Nairobi, the capital of Kenya, is located in the southwest. Other major cities include Mombasa (situated on the coast), Nakuru and Eldoret (found in the west-central region), and Kisumu (located in the west on the shores of Lake Victoria).
Kenya is blessed with a wide range of topographical features – from the low plains found along the coast, bisected by the Great Rift Valley, to the fertile plateau in the west. The Great Rift Valley is home to a number of lakes, arid and rugged landscapes, and volcanic landforms with areas of active hot springs and geothermal activity.
Immigration/VISA Requirements
A visa is required prior to entry into The Republic of Kenya. The e-Visa printout must be presented at the port of entry. It should take atleast 2 working days to get your eVisa. Each adult visitor to the Republic of Kenya is required to submit evisa applications in their personal ecitizen account.
More on Visas: https://immigration.ecitizen.go.ke/index.php?id=5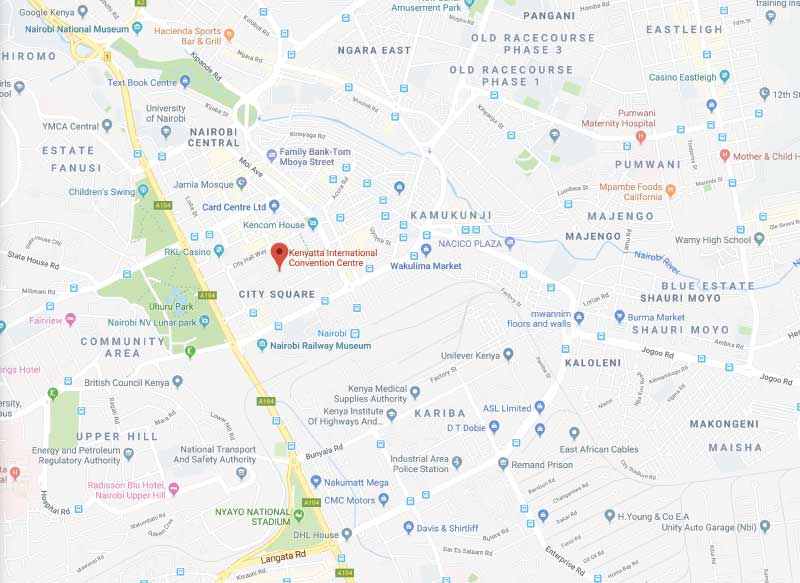 Getting to our Venue
Nef GG 2020 website layout
Getting around Kenya is easy once you know your options. Flying, getting a car hire, using the train system, taking a taxi or experiencing Kenya's popular public transport system are all viable options for your Kenya travel.
Most airports in Kenya are used for domestic flights. The largest airport is Jomo Kenyatta International Airport (NBO) located in Nairobi, the capital of Kenya. The second largest is Moi International Airport (MBA) located in Mombasa.
Jomo Kenyatta International Airport (NBO)
It is situated 15 kilometers south of Nairobi's city centre and it's among the busiest airports of Africa. Jomo Kenyatta International Airport has four terminals, three of which are for international use.
Restaurants near our venue
Money
The unit of currency is the Kenyan shilling (KSh), which is made up of 100 cents. Notes in circulation are KSh1000, 500, 200, 100, 50 and 20, and there are also coins of KSh40, 20, 10, five and one. Locally the shilling is commonly known as a 'bob', after the old English term for a one-shilling coin. The shilling has been relatively stable over the last few years, maintaining fairly constant rates against the US dollar, euro and UK pound.

All banks change US dollars, euros and UK pounds into Kenyan shillings. ATMs can be found in medium-sized towns, so bring cash and a debit or credit card.
ATMS
Virtually all banks in Kenya now have ATMs, most of which accept international credit and debit cards
Credit Cards
Credit cards are becoming increasingly popular. Visa and MasterCard are now widely accepted in midrange and top-end hotels, top-end restaurants and some shops.
Other Important Information
Plugs and Voltage
Electricity in Kenya is 230 Volts. If you have a device that does not accept 230 Volts at 50 Hertz, you will need a voltage converter. Plugs have two round pins. Please be sure to carry with you a multiple travel adaptor.
Telephone and SIM cards
Kenya has various phone service providers and the process to acquire a SIM card is quick and easy. You will need:Valid Passport or proof of identification
Rwf 1500 + funds for desired amount of airtime
Plastic free Country
Kenya is a polythene-free country. For environmental reasons, plastic bags have been banned, the customary plastic duty-free bags included. You will be asked to give up all plastic bags at the airport.
Drinking water
It is NOT advisable to drink water from the taps. You will be able to buy bottled water wherever you go. Recommended brands are: Inyange, Nile or Huye water.
Explore Nairobi
Nairobi, Kenya is the perfect place to experience the incredible wildlife and natural beauty of Africa. The destination simply offers a vacation experience like no other.
Daphne Sheldrick Wildlife Trust
Occupying a plot within Nairobi National Park, this nonprofit trust was established in 1977, shortly after the death of David Sheldrick, who served as the antipoaching warden of Tsavo National Park.
Nairobi National Park
Welcome to Kenya's most accessible yet incongruous safari experience. Set on the city's southern outskirts, Nairobi National Park (at 117 sq km, one of Africa's smallest) has abundant wildlife that can.
National Museum
Kenya's wonderful National Museum, housed in an imposing building amid lush, leafy grounds just outside the centre, has a good range of cultural and natural-history exhibits.
Giraffe Center
This centre, which protects the highly endangered Rothschild's giraffe, combines serious conservation with enjoyable activities. You can observe, hand-feed or even kiss one of the giraffes.
Carnivore
Love it or hate it, Carnivore serves up Kenya's most famous nyama choma (barbecued meat) – it's been an icon for tourists, expats and wealthier locals for over 25 years
Karen Blixen's House & Museum
If you loved Out of Africa, you'll love this museum in the farmhouse where author Karen Blixen lived between 1914 and 1931. She left after a series of personal tragedies, but the lovely colonial house has been.
Karen Blixen Coffee Garden
The Coffee Garden offers diners five areas in which to enjoy its varied menu, including the plush L'Amour dining room, the historic 1901 Swedo House and the recommended main section, a casual restaurant
Got questions about our venue?
Contact us